Online Translation Service Agency Baltic Media | Nordic - Baltic Media Translation Provider
Nordic-Baltic Online Media Translation agency Baltic Media is a leading provider of online media translation services in Northern Europe specializing in Northern European (incl. Nordic, Baltic, Slavic) languages mostly in translation services from/into Swedish, Finnish, Danish, Icelandic, Norwegian, German, English, Polish, Russian, Latvian, Lithuanian and Estonian.
As an ISO certified online media service provider, translation agency Baltic Media offers human translation services for corporate, public and individual clients.
Nordic-Baltic translation company Baltic Media has been founded in Sweden in 1991 by Guntar and Sandra Veinberg, linguists with a Ph.D. degree in linguistics and communication. The translation agency operates in the Nordic-Baltic market since 1994 being one of the leading suppliers in the segment of quality human translation services. The main offices of the translation agency are in Stockholm (Sweden) and Riga (Latvia).
Dr. Guntar Veinberg: "As media translation provider w e help international and global companies to reach European markets around the Baltic Sea and Northern Europe. We help our regional clients to reach global markets."
Why choose Nordic-Baltic Translation Agency Baltic Media?
How to Reduce Translation Costs Without Sacrificing Quality
Why Human Translation Services is Your Best Choice?
Baltic Media Ltd is a language service company, whose strategic aim is to provide high quality language services to media companies, industry entities, state and other institutions, and help our clients to successfully communicate in the multi-lingual environment, thus becoming the leading provider of these services, respected by both the Clients, competitors and suppliers.
The business concept of Baltic Media Ltd is apparent in its slogan The Right Message in the Right Language. The company sells intellectual commodities created by qualified and competent specialists that are able to ensure the high quality of service.
Language service provider Baltic Media Ltd operates globally. Approximately 80% of the company's turnover derives from the export to Scandinavia, Central Europe and North America. Baltic Media Ltd is recognized as experts in Baltic, Scandinavian, European and other world languages.
Nowadays, in order to successfully communicate in local and international markets, both command of a certain language and knowledge in the theory and practice of communication is essential. Baltic Media Ltd offers all of these services operating as a one-stop language service provider.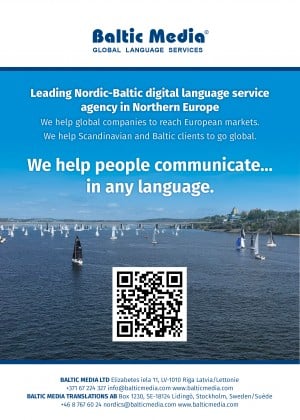 Our Most Commonly Used Languages Around the Baltic and North Sea include:
Western and Central European Languages
Our most commonly used Western and Central European languages include:
Asian and Middle Eastern Languages
Our most commonly used Asian and Middle Eastern languages include:
Services provided by Baltic Media Ltd:
Communication and PR (Public Relations) courses;
Movie/video production.
Meet the Baltic Media Ltd team
© Baltic Media Ltd