Why choose Nordic-Baltic Online Translation Agency Baltic Media®?
Everyone is looking for the best translation agency. We believe you have come to the right place! We offer professional low-cost translation between all the world's languages ​​with a focus on the Baltic Sea region. We are a translation agency more than 30 years of experience. We work hard to be the best translation agency for everyone's needs. We are an ISO-certified translation agency that takes responsibility and contributes. Ask our satisfied customers.
12 Reasons to Choose Baltic Media – Nordic-Baltic  Online Translation Services:
1. ✅ Only human translators can precisely decide about the right context of a text. We work with them.*
---
2. ✅ We have an extensive experience in providing language services in Northern Europe. For more than 30 years we have served the industry specialising in Northern European (incl. Nordic, Baltic, Slavic) languages mostly in translation services from/into Swedish, Finnish, Danish, Icelandic, Faroese, Norwegian, German, English, Polish, Russian, Latvian, Lithuanian and Estonian.
---
3. ✅ We have a local presence in Northern Europe: our offices are located in the Nordics and the Baltics. We live and work here.
---
4. ✅ To save your costs, we use CAT (Computer-Aided Translation) tools to ensure that you get the best possible translation solution, which is cost-effective and of high quality.**
---
5. ✅ We have a long experience in dealing with high volume translation projects into multiple languages where our linguists work directly within your content management system (CMS).
---
6. ✅ We work in accordance with the quality management system ISO 9001:2015.**
---
7. ✅ Our Main Service Rules:
- We take responsibility and contribute.
- We make sure the customer is our top priority.
- We deliver what we promise.
---
8. ✅ We have a qualified office staff: most of our employees have an educational background in linguistics, translation studies, as well as acquired degrees.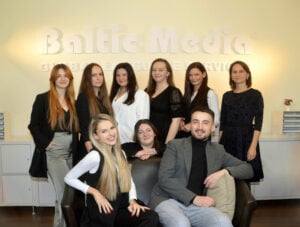 ---
9. ✅ Our clients are those with high professional requirements, for example, institutions of the EU.
---
10. ✅ Our professional liability insurance (PLI), also called professional indemnity insurance (PII) gives our clients extra assurance.
---
11. ✅ Our company is a corporate member of the ELIA – the European Language Industry Association
---
12. ✅ We offer competitive prices for a high quality service, fast delivery and friendly cooperation.
---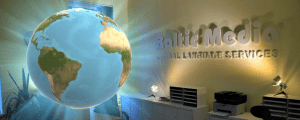 * Our translators do translations ONLY into their native language and reside in the country where this language is either the official language or the language prevalent in social life.
** Our CAT tools allow us to analyse your texts to find the parts of a source text, that have been translated before. To lower the costs and speed up the translation process, we use Translation Memory (TM) that improves consistency of style and terminology. So, CAT technologies decrease turnaround time and time-to-market.
CAT tools we use:
SDL Trados Studio;
Wordbee;
MemoQ;
Memsource;
Transit;
Idiom desktop workbench;
Translation Workspace.
*** We work in accordance with ISO 9001:2015 Quality Management System thus we have improved the project coordination and supplier selection procedure. Baltic Media has its own translator testing system. Criteria: linguistic education, at least 5 years of experience in translation, references from other clients and test translations.