Professional Nordic-Baltic-Scandinavian Language Translation Services
What is a professional translation service?
Translation services are professional services that translate written and spoken content from one language into another. They can be used for a variety of purposes, such as:
Translating documents, such as contracts, marketing materials, and technical manuals.
Translating websites and other digital content.
Translating audio and video files.
Translating live events, such as speeches and conferences.
Providing interpreting services for face-to-face communication.
Translation services can be provided by individuals or by translation agencies. When choosing a translation service, it is important to consider the following factors:
The languages that the service supports.
The level of expertise of the translators.
The turnaround time.
The cost.
It is also important to make sure that the translation service is reputable and that the translations will be of high quality.
Here are some of the most common types of translation services:
Document translation: This is the most common type of translation service. It involves translating written documents, such as contracts, marketing materials, and technical manuals.
Website translation: This involves translating websites and other digital content into multiple languages. This is important for businesses that want to reach a global audience.
Audio and video translation: This involves translating audio and video files into multiple languages. This is often used for movies, TV shows, and other media content.
Interpreting services: This involves providing live translation for face-to-face communication. This is often used for business meetings, conferences, and other events.
Transcreation: This is a more specialized type of translation that involves adapting content for a specific cultural audience. This is often used for marketing materials and other content that needs to be localized.
There are more than 1500 translators  from all around the world listed in the Baltic Media Ltd database. The Nordic-Baltic translation agency Baltic Media Ltd has strict quality control requirements regarding the selection of new vendors. We employ only professional translators with a university degree in linguistics and/or with experience in translation work with specialisation in a specific field.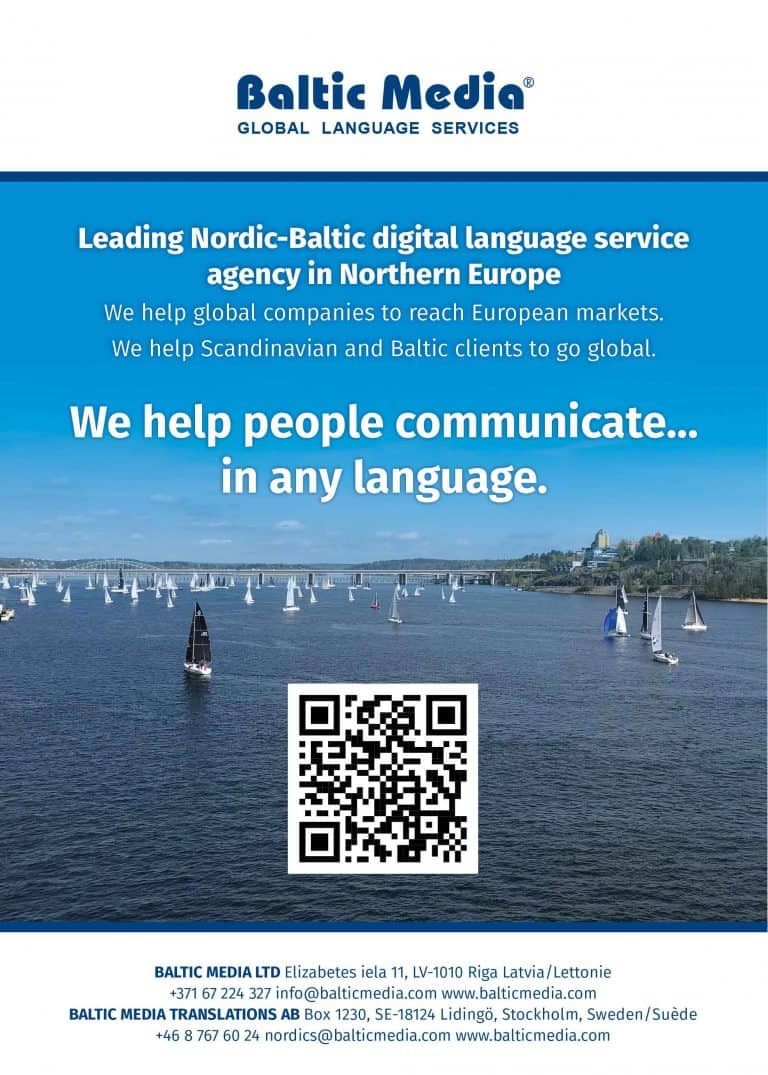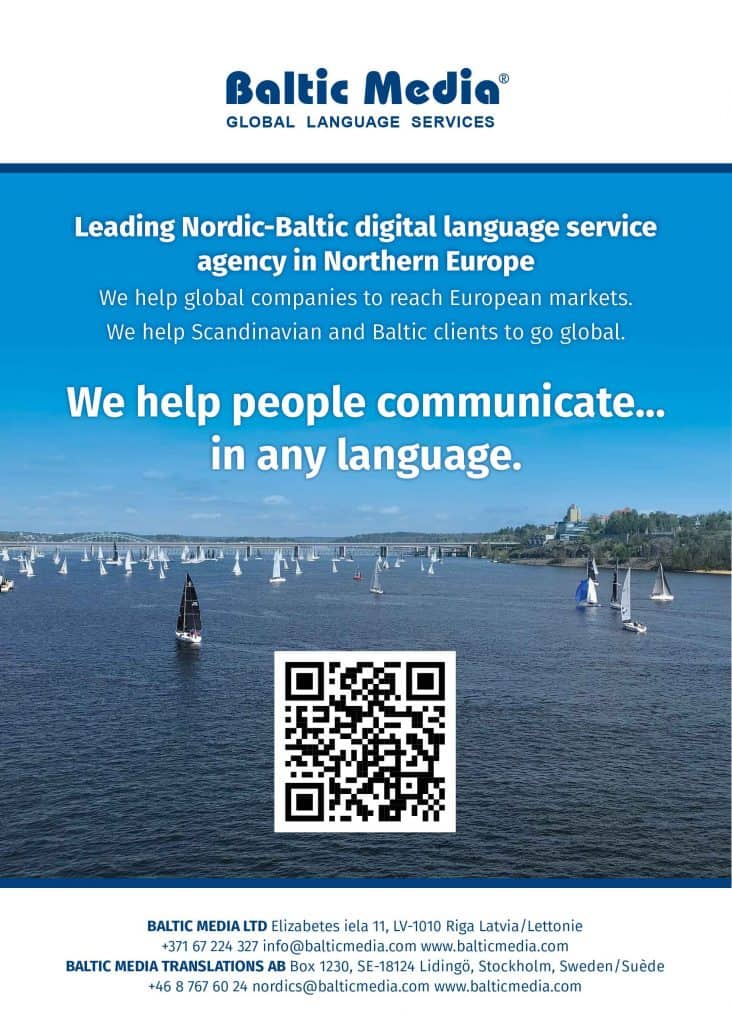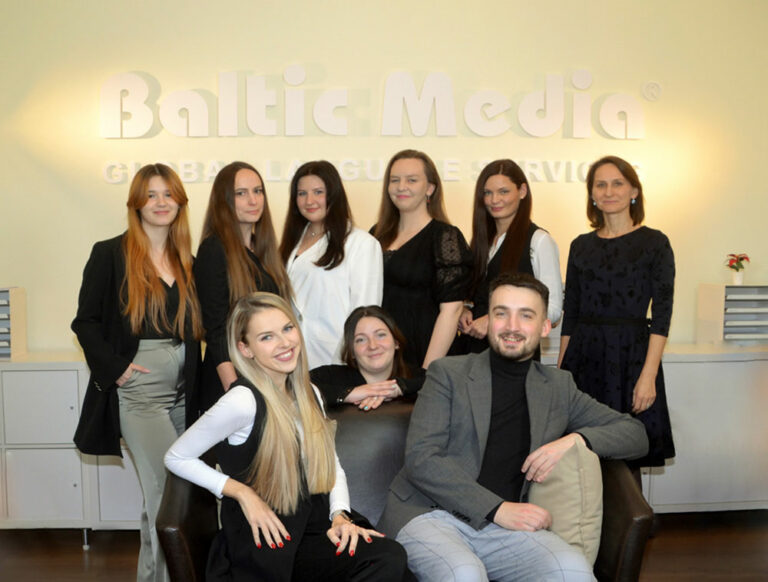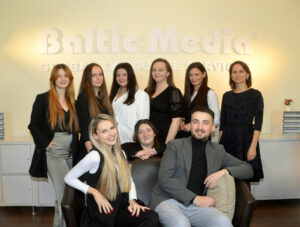 Baltic Media Ltd provides quality translations into all of the most commonly required language combinations. Furthermore, our company's quality policy is that, whenever possible, the translation into the language required by the client be done by native linguist living in country and region where this language is used.
A great number of vendors are certified translators. This qualification is essential for translations certified by a notary as well as for interpretation in court trials.
Language service we most commonly offer from and into:
Confidentiality 
The translation agency Baltic Media Ltd concludes agreements with all of our vendors with a particular commitment to the quality of work, terms of delivery and confidentiality.
Terms of Delivery 
The services we offer are organised so as to meet our clients' requirements. One of the most essential requirements is prompt service. We can also be contacted outside of regular business hours.
Quality and promptness – these are the two main factors that have helped us in gaining our clients' trust.
Areas of Specialization 
Legal and financial texts
IT and telecommunications
Automotive industry and mechanical engineering
Medicine and pharmacology
Tourism and travel
Mass media, advertising, communications and PR
Fashion and design
Gastronomy
Construction and real estate
Cosmetics and perfumery
Transportation
Farming
...and many more.
Translation Tools 
The translation agency Baltic Media Ltd very closely follows the most recent trends in the development of translation technologies. Apart from the most common text processing software such as Microsoft Office (Word, Excel, Power Point), Adobe Page Maker and others, we also work with Trados and SDLX and develop terminology data bases for our clients.
Translators and in-house employees have successfully acquired the TRADOS translation tool and we actively continue training new vendors to work with this software in order to maintain consistent terminology with the help of translation memory.
The Baltic Media® Nordic-Baltic Translation agency is a leading provider of digital translation services in Northern Europe specialising in Northern European (incl. Nordic, Baltic, Slavic) languages mostly in translation services from/into Swedish, Finnish, Danish, Icelandic, Faroese, Norwegian, German, English, Polish, Russian, Latvian, Lithuanian and Estonian.
As an ISO certified language service provider, the Baltic Media® translation agency offers human translation services for corporate, governmental and private clients.
© Baltic Media®