Nordic-Baltic Language Localization & Internationalization Services 
Localisation service
(shortened to "l10n")
is a text translation into any language of the world adapting it to the cultural environment of each language and taking into consideration peculiarities, traditions and legislation of a particular region. It is a
creative process
carried out by specialist of various fields during which each material designated for translation, for instance, computer software, web-page of a company, user's manual or description, different marketing materials, etc. is adapted for the usage in a particular market. Ideally, a product or service is developed so that localization is rather easy to achieve - for example, by creating technical illustrations for manuals in which the text can easily be translated into another language and allowing some extension room for this purpose. This process is termed
internationalization.
An internationalized product or service is therefore easier to localize. The method of first enabling a product to be localized and then localizing it for different national audiences is sometimes known as globalization. Inform your Project Manager if the translation needs to be adapted to the environment of a particular language or the text is designated for a particular audience or to meet a specific purpose. We provide localization services into and from all Baltic sea region and European languages.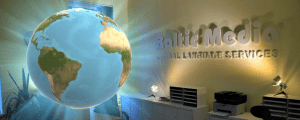 Leading provider of digital translation services
The Baltic Media
®
Nordic-Baltic Translation agency is a leading provider of digital translation services in Northern Europe specialising in Northern European (incl. Nordic, Baltic, Slavic) languages mostly in translation services from/into
Swedish
,
Finnish
,
Danish
,
Icelandic
,
Faroese
,
Norwegian
,
German
,
English
,
Polish
,
Russian
,
Latvian
,
Lithuanian
and
Estonian
. As an ISO certified language service provider, the Baltic Media
®
translation agency offers human translation services for corporate, governmental and private clients.
© Baltic Media Ltd