Subtitling, Dubbing and Voice-over | Nordic / Baltic / European languages

Nordic - Baltic Translation agency Baltic Media Ltd offers translation and localization of audio and video files into Scandinavian / Nordic / Baltic / European languages as well as recording and subtitling services.
During the process of the translation of audio and video files according to the requirements of the Client the best Baltic Media Ltd suppliers provide the transcription of the spoken text recoding the precise time it is spoken and then translate and localize the text into the selected target language.
Why choose Nordic-Baltic Translation Company Baltic Media?
How to Reduce Translation Costs Without Sacrificing Quality
Why Human Translation Services is Your Best Choice?
Voice-over refers to a production technique where a disembodied voice
is broadcast live in radio, television, film. The translated text is recorded by an actor, narrator, interpreter who do not appear on-screen, however the original text can still be heard in the background.
Translation agency Baltic Media Ltd provides film, video and computer game translation and recording applying the voice-over technique. Translation is delivered to the client as a sound file.
Dubbing is the process of recording voices that do not belong to the original actors and speak in a different language.
Translation agency Baltic Media Ltd offers translation of the text provided for dubbing and records it in the sound studio.
Recording of the translated text is done in a professional sound studio by professional actors or specialists of this area who are native speakers of the target language of a translation. Thus we can assure the high quality of the record.
After the text is recorded, our specialists provide the file montage and the file is then delivered to the Client in the set format and time.
Subtitling, subtitle translation
Translation agency Baltic Media Ltd also provides subtitling and subtitle translation services.
The process of subtitle production includes the creation of the subtile text in the source language providing the timecode, subtitle translation, taking into consideration the number of characters dertermined for each line.
Translation agency Baltic Media Ltd provides the transcription of the subtitle text taking into consideration the timecodes, subtitle translation and preparation of the subtitle file for the further process of transmission or production. The most common subtitle file formats are .STL.EBU, PAC, CAP, etc.
Baltic Media Ltd has translated subtitles for the Swedish National Television (in Swedish), the Swedish clothing company H&M (into 13 European and Asian languages), National Geographic (in Scandinavian languages) and also for other end client needs.
Nordic-Baltic Translation agency Baltic Media is a leading provider of digital translation services in Northern Europe specializing in Northern European (incl. Nordic, Baltic, Slavic) languages mostly in translation services from/into Swedish, Finnish, Danish, Icelandic, Norwegian, German, English, Polish, Russian, Latvian, Lithuanian and Estonian.
As an ISO certified language service provider, translation agency Baltic Media offers human translation services for corporate, public and individual clients.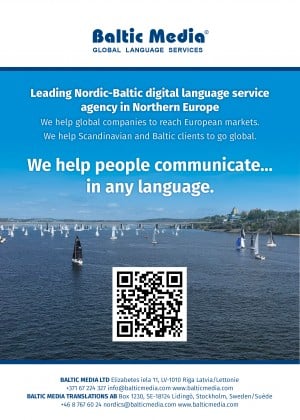 © Baltic Media Ltd